HELLO NABS MEMBERS AND FRIENDS,
The NABS 30th Annual Summit, will be held on the island of St. Lucia, from Saturday, November 6th to Saturday, November 13th, 2021.  For 30 years NABS has inspired divers of color particularly in the US and around the World.  What better way to celebrate then selecting a new Summit destination that offers everyone "Limitless Inspiration!"  We hope you'll "let St. Lucia Inspire you" and you'll continue to inspire NABS.
Click on the image below to go to the NABS Summit website or download the attached PDF containing all the Summit Registration information.
We hope you'll join us for our 30th Anniversary; it will be memorable.
With gratitude,
NABS 2021 Summit Committee
summit@nabsdivers.org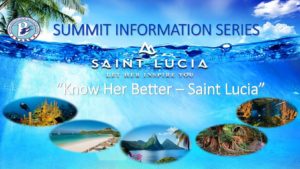 On December 17, 2020 the Summit Committee introduced the NABS 2021 Summit Information Series.  Approximately every other month until October 1, 2021 the Summit Committee will present varying topics to NABS members about our 2021 Summit destination.
Our first Episode, "This is Saint Lucia",  presented by our Summit partners from the Saint Lucia Tourism Authority: Ernie George and Racquel John, was a great success.
Future episode topics are noted below and take place via Zoom/Facebook Live.  Details regarding the calls/meetings will be emailed and posted on the NABS 2021 Summit Site, Event page when confirmed and finalized.  Please join us on one or all of our future episodes as our Saint Lucia Summit partners share intimate details about their island home and provide informative insight so NABS Members may "Know Her Better – Saint Lucia."
EPISODE SCHEDULE
(subject to change)
Episode One:  This is – Saint Lucia: General Over of the Island; December 17, 2020 – 7pm EST DELIVERED
Episode Two:  Dive In – Saint Lucia:  January 2021, DELIVERED
Episode Three:  Be Our Guest – Royalton: Wednesday, April 21, 2021 at 7pm EDT, DELIVERED

Episode Four: SPECIAL EPISODE – Saint Lucia:  Tuesday/June 15, 2021 7:30pm EDT; DELIVERED
Episode Five:  Adventures on Land – Saint Lucia: Day/Date (TBA)
Episode Six:  Happenings at the Summit:  Day/Date (TBA)